Black, July, 2013
From LagWiki
Black

Location
High Guads
Author
William Tucker
Date
July 21, 2013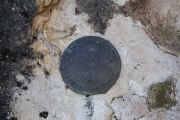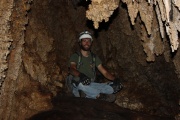 On Sunday, July 21, 2013, after having visited Hell Below the day before, several of us set out for Black.
Joseph and Michael had visited Black recently and decided to go home instead -- that I do not understand. Lee Ann had planned a long drive to visit a friend whom she had not seen in over 40 years, so she left, too -- that I understand. So, it was Tammy, Derek and I.
We set out early in the morning after signing the permit in Derek's Wrangler Unlimited. We first drove to the Hell Below parking lot where I ran down to the entrance to verify that I had not forgotten to lock it -- I had not. Then we drove as far as we could toward Black which was not far. Derek took one look at the road and decided that that was as far as he wanted to take his new Jeep.
Then, I remembered that I had not made a note of the combination. It was back at camp. So, we hoofed it to camp and back -- at least we did not have to carry the packs. Then we hiked to the Black cave entrance.
We spent a couple of very pleasant hours touring the cave. We saw a Rhadine which was too fast for me to photograph and several diplura which I did photograph. No bats, this time. The cave was very wet and dripping; but, the water level in the pool was still very low.
After hiking back to the car, we did a 16 point turn to get it headed back toward camp. We packed everything up; I finished filling out the permit and we headed for home.
It was a very nice day even with all of the unnecessary hiking; afterall, I got to go underground.