Calcite (Inventory)/Folia
From LagWiki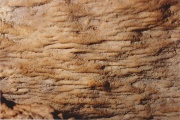 The Folia field of the Calcite section should be used to record any observation of folia.
Folia are horizontal growths of calcite usually occurring on overhanging walls. They appear much like inverted rimstone dams.
Folia are concentrated around pool surfaces and more specifically, near the top of the water table. They are often associated with calcite rafts and mammillaries. They are believed to form when CO2 bubbles strike the ceiling or an overhanging wall and cause calcite to precipitate from the water. They may also form from frequent changes in water level leaving behind horizontal deposits.
Folia ribs project from the wall between 1 and 5 cm with a thickness of each rib about 0.5-1 cm. Each rib is usually spaced between 1 and 5 cm apart.
Folia have also been observed in mud.
Look for folia on the walls or ceiling in places that once overhung a pool especially if calcite rafts or mammillaries are in the area.
See also
References
Hill, Carol; Paolo Forti (1997) Cave Minerals of the World (Second Edition ed.) National Speleological Society pp 73-74 ISBN: 1-879961-07-5
Palmer, Arthur N. (2007) Cave Geology CAVE BOOKS, Dayton, OH p 277 ISBN-13: 978-0-939748-66-2, ISBN-10: 0-939748-66-5
Folia, Calcite