Intrepid Lint Pickers
From LagWiki
Intrepid Lint Pickers
Location
Carlsbad Caverns, Left Hand Tunnel
Author
Lee Ann Dean
Date
March 26, 2011

Saturday March 26th many of us had another new caving experience, lint picking. Dan Dennison found the largest lint ball, mouse sized. Dillon Dennison found the rare long red hair. Lee Ann Dean and ???professor fluffy??? specialized in erasing foot prints off trail. Dan and Amy Rhoads demonstrated steady hands in tweezer manipulation. Finally, Derek Smith showed amazing restraint observing many great crevasses which ???begged??? for exploration.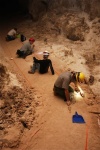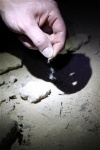 We met the new Carlsbad cave resource director, Jason Walz who guided and joined us on this project. Apparently, air currents pull the lint and hair sloughing off human guests into Left Hand Tunnel. A German climatologist has set up anemometers, sensors and thermometers in the attempt to study this phenomenon. Most of our time was spent in the tunnel???s front part. As a reward, Jason did take us on a tour to the back of this passage where the formations became more impressive and ornate.
Those LAGers new to restoration at Carlsbad were actually impressed with the amenities of the hut. All of us were impressed with the culinary skill of our hut cook, Carol Dennison. Short games of 21 and Scruples kept us entertained.
Special thanks go to Skinny for arranging this trip, to Carol for the food, to the Tuckers for restoration equipment loan and to Derek for supplying his vehicle when the Rhoad???s truck overheated.
Personal note; how strange are people who want to drive 8 hours to collect other folk???s soughed off body parts? As usual, all caving experiences just bring us back to basics. Adventure can be defined in many ways.
Photos by Amy Rhoads