Restoration Field Camp, 2011
From LagWiki
Restoration Field Camp
Location
Carlsbad Caverns
Author
William Tucker
Date
June 26 - July 1, 2011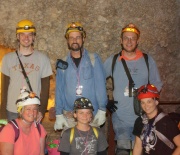 We had a blast and great work was done, too. The 2011 Restoration Field Camp was a great success. This was the first time that Tammy and I have hosted this event and we were a little anxious to see that it went well. Well, it did.
Everyone showed up at reasonable times on Sunday to find both sides of the Walnut Canyon road blackened by fire and red streaks from fire retardant were visible here and there. But, we did not let the extremely dry conditions and the ash from the fire dampen our enthusiasm.
On Monday, after the requisite signing of the permit and the very pleasant and welcoming greeting from Dale Pate, we set out to Lower Cave and spent the day cleaning cave pearls. On Tuesday, we worked in the Dome Room. On Wednesday, we walked the entire visitor trail and examined every pool for foreign objects. We amassed quite a collection of coins among other things only a few of which were disgusting. We answered questions from a lot of visitors that day. On Wednesday night, after everyone else had left the cave, we returned to work on Crystal Springs Dome and got her shiny and bright for the fourth of July weekend. On Thursday, we returned to the Rookery for more work on the cave pearls. On Friday we cleaned up and then found out that Deb Buecher was doing a talk on bats in Carlsbad and we couldn't miss that. It was great and Matt even succeeded in getting Sammy (one of the live bats) to pose with the new RFC t-shirt.
It was a fun week and Tammy and I really enjoyed it. All of the participants were terrific and even though we were anxious about this one, I can't wait for the next Restoration Field Camp.